Posted by admin on Jan 26th, 2009 | 2 comments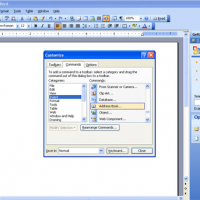 When you write a client letter, you probably have to open up your Outlook address book to find the client's name and address and then copy and paste the address into your document. You can simplify this process by adding a button to your Word toolbar that will let you find and insert the address without leaving your document.

Follow these steps:
Go to Tools | Customize.
Click the Commands tab.
Select Insert from the Categories list box.
In the Commands text box, click and drag the Address Book command to the Standard or Formatting toolbar.
Now click in the Word document where you want the address to appear and then click the Insert Address toolbar button. A dialog box will open and allow you to search for the client in your Outlook address book. When you locate the name, click on it, and then click OK. Word will insert the name and address in the document at the insertion point.

2 Responses


Leave a Reply