Posted by Pacific LANWorks on Feb 25th, 2011 | 32 comments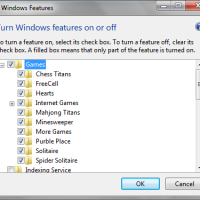 Just received an email from our long-time supporting customer, to whom has just bought a new system from us and was wondering where is her favorite MineSweeper and Solitaire game in her new system.
Pre-installed with Microsoft Windows 7 Professional, her new system has almost all the games disabled by default, by Microsoft, of course. The reason is probably Microsoft's way of telling users that this is a business system and not a gaming one!
Anyway, to turn on the default games back again, just follow the steps below and you can have fun while you work then (just wonder how to do both at the same time ??)
Go to Control Panel
Click on <<Programs and Features>> and then click on Turn Windows Features On/Off on the left panel.
A dialog box will be shown, as seen below:
Tick the Games option to enable all games or select whichever you want by putting a tick next to the games.
Have fun!

32 Responses


Leave a Reply