Posted by admin on Jan 6th, 2010 | 0 comments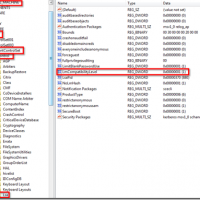 If your system is running Microsoft Windows Vista and you are unable to access your home or office NAS (Network-Attached Storage) server, this is probably due to the fact that your NAS is running on Linux Samba File System or other OS that is using older encryption method for their server access authentication. 
With Windows Vista newer encryption method, these older OSes or File System will not understand Vista and therefore the user is not allowed to access the NAS. The solution is to force Windows Vista to use the older encryption method in order to provide the backward compatibility with your NAS. In order to do so, you'll need to modify the system registry. Do note that improperly modifying the system registry can be harmful to your system and may even render your system totally useless. Please take great care when following the steps here. 
For Users of Windows Vista Home Basic and Home Premium
The steps for doing so are as such:-
Click start
Type: regedit
Press enter
In the left, expand these folders: HKEY_LOCAL_MACHINE\SYSTEM\CurrentControlSet\Control\
In the left, click on the folder named: Lsa
In the right, double-click "LmCompatibilityLevel"
Type the number 1 and press enter
Restart your computer
For Users of Windows Vista Business, Enterprise, and Ultimate 
Click Start
Click Control Panel
Click System and Maintenance
Click Administrative Tools
Double-Click Local Security Policy
In the left pane, click the triangle next to Local Policy
In the left pane, click Security Options
In the right pane near the bottom, double-click "Network security: LAN manager authentication level"
Click the drop-down box, and click "Send LM & NTLM – use NTLMv2 session security if negotiated"
Click OK

Leave a Reply