Posted by admin on Jan 18th, 2010 | 0 comments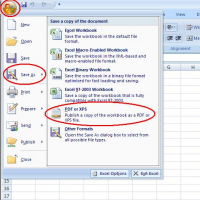 Did you know that you can produce PDF files from your Microsoft Office 2007 without purchasing Adobe Acrobat or any other similar software? Lots of my customer don't, including the one I'm writing about here.
I'm writing this because recently I've just blown one deal for multiple licenses of Adobe Acrobat, and though yes, I felt the pain in my heart when I do so, but the matter of fact is, if I don't blow the deal, I will feel that I'm not doing my job well.
So what happen?

Actually, it's just that this customer had asked me to quote them 5 licenses of Adobe Acrobat and when I presented them the quote, they were kinda shock at the price and was asking me for any other alternatives. So, I dived in further with them and in the end of the day, all they need is just to save their document into PDF formats so that they can email to their suppliers and/or their customers and that's all.
They don't need to edit the PDFs, they don't need to add more pages or remove any pages from any PDFs, they don't need annotating their PDFs and basically, they just don't need Adobe Acrobat!!
Their operation is very simple and in their systems, they only have some basic software and Microsoft Office 2007, which they purchased from me. They just need to generate the PDFs from their Microsoft Office 2007 and that's all.
I told the boss if that's the case, why not sign up a maintenance contract with my company and in return, I'll teach him how to produce these PDF files without spending a dollar on any software, and of course, legitimately. He agrees and the bet is on.
I show him how it was done, and he sign the contract with us
I show him how it was done, and he sign the contract with us
Actually, he had wanted to sign the contract with us already but just that he thought he need to purchase the Adobe Acrobat, the contract have to be postponed to a later date. When I managed to show him my trick, the money is saved and our contract is done. So, by helping him save the money and lost the deal for Adobe Acrobat licenses, I managed to make more for my company by having the contract signed. Not a bad deal after all.
So, how do I do it? Simple, just follow the steps below:-
Open Microsoft Word 2007 (Microsoft Excel 2007 also can)
Press F1 to go to Help and type PDF in the search box and press Enter
Scroll to and click Enable Support For Other File Formats, Such As PDF And XPS.
Under "What Do You Want To Do?" click Install And Use The Publish As PDF Or XPS Add-In From Microsoft.
When the Web page displays, click Microsoft Save A PDF Or XPS Add-In For 2007 Microsoft Office Programs.
Follow the instructions to download the add-in.
Of course, to do the above, your computer MUST be connected to the Internet.
Now, to save any documents as a PDF file, follow the steps below:-
Open the document
Click the Microsoft Office button, move to Save As, and click PDF Or XPS.
Click the Options button to set Bookmarks, choose whether you want to save a part of the document or the entire document, and/or exclude document elements from the file. Click OK.
Click the appropriate button for Standard or Minimize optimization.
Click Publish.
You only need to download the support once and you can use this method for your Microsoft PowerPoint 2007 documents too.
Neat huh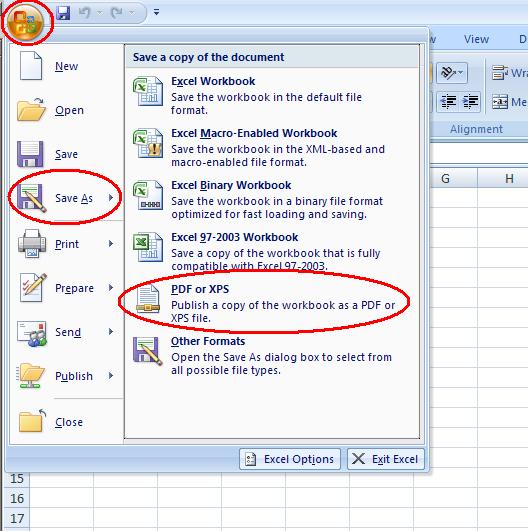 Leave a Reply