Posted by Pacific LANWorks on Feb 11th, 2010 | 0 comments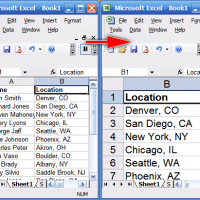 Last week while helping my customer setup their conference room for more network access for their very important meeting, a few managers was in the room doing some sort of rehearsing for the meeting. Seems that the meeting is really very important to them.
Normally of course, I'm not supposed to be there listening or viewing their presentations, especially for such an important one, but somehow they usually treat me as their own and do not guard against me. Which of course makes me feel good on one hand, but feel kinda not that comfortable on the other hand. Did they know business espionage usually happens from insider or sorta insider job? Anyway, I'm cleaned, so no worries.

Why I'm mentioning this incident here is because while I was setting up the network, I overheard one of the managers claiming that he can't see the figures on the screen and the others begin to concur with him. I raised my head and take a look at the screen and yeah, seriously, unless you put on a pair of binoculars, you really can't see the figures.
They begin to adjust the monitor resolution, the projector resolution, the projector distance and this and that, until I tell them why not let me give it a try. They agree and step forward to the laptop, do a few mouse click and voila, the figures are enlarged and the figures clearly presented.
At least this incident helps them to lighten up a little.
Every one of the managers start to laugh and smack their head as to why they are wasting 15 minutes of their precious time fooling around the non-essentials. At least this incident helps them to lighten up a little. Without wasting much time, they asked me how I did it, and this is what I do:-
Select the range of cells you want to fill the window.
Click the drop-down arrow on the Zoom tool in the standard toolbar and click Selection. Excel will instantly resize and reposition the selection to fill the worksheet window.
To return to normal view, select 100% from the drop-down Zoom list. That's it.

Leave a Reply