Posted by Pacific LANWorks on Mar 3rd, 2010 | 0 comments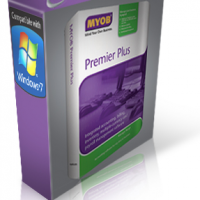 We are happy to announce that on March 1st 2010, MYOB will release MYOB products that are compatible with Windows® 7. MYOB Premier Plus, MYOB Premier and MYOB Accounting have been tested to meet all of the technical requirements to be compatible with Windows® 7. All product collaterals and details will be updated to communicate this message. Look out for the Windows® 7 logo on the product boxes and brochures.
Following are the Windows® 7 products released on March 1st 2010:
MYOB Accounting 18.3.2
MYOB Premier version 12.3.2
MYOB Premier Plus version 12.3.2
The benefits of using a Compatible with Windows 7 product:
Passed Microsoft designed tests to minimize the possibility of crashes, hangs, and reboots.
Represents a commitment that the product will continue to work over the life of Windows 7.
Meets privacy standards set forth by the Anti-Spyware Coalition.
Installs cleanly and reliably.
Eliminates unnecessary reboots.
Following is the message from MYOB to our customers:
" You have enough to think about with your business – your technology should not be a worry. Save time and money by purchasing "Compatible with Windows 7" applications such as MYOB Accounting and MYOB Premier. Applications that carry the Windows 7 logo have signed executables and drivers for authencity, and have passed Microsoft designed tests to help ensure they install readily and run reliably with minimal number of hangs, crashes or restarts."

Leave a Reply