We Resell & Install Broadband Too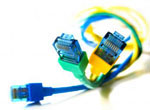 Broadband connection is an internet connection that is always on, as opposed to a dial-up connections, which, because of the speed, allows you to access web site pages almost instantaneously.
Getting Internet connection of up to 25 times faster than a 56Kbps dial-up modem is something multinational corporations, medium enterprises or small offices can all benefit from our quick and swift broadband setup. Powered by Digital Subscriber Line (DSL) technology, it gives you an 'always on' connection at a speed of up to 4.0Mbps.
Audio and video can be received as continuous streams and virtual private networks (VPN's) can be set upon with branch offices and staff that work from home. Large email attachments and files are also much faster to transfer.
You can even save money on telephone calls if you route calls over the internet using a technology called Voice Over IP (V.O.I.P).
Very often broadband is priced according to it's speed. The faster the speed the quicker you will be able to see web pages an download files, but the more it will cost you per month. Most small companies where only a few people are using the connection for email and web access should be able to manage on speeds of 512kbps or less, however if your business makes extensive use of the internet and email then you will need a faster speed, possibly a 1.5Mbps line or even a faster line than that.
With our partners' broadband access packages, you can composedly experience high-speed, reliable and efficient connection when using Internet applications (eg. Email, Web access, Internet telephony and E-commerce).