Projecting Your Professional Image On The Web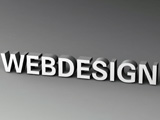 A successful web site not only has the "look good" factor but more importantly, help translate the company's messages on the Internet successfully via visual means. Before you embark on revamping your current website or intending to design your new website, ask yourselves these two simple questions:-
Does your web design reflects your company's internet marketing messages?
Does it fulfill your web strategy's objectives?
Web designing is more than putting pictures and text on your web site.
A good web design for your website reflects your company's professional image on the internet. With a good compelling visual design, your website will attract more return visitors.
Our web design services will ensure that you build a customer-oriented and effective website that fits into your overall online strategy. You are no longer using your website as a dull and static online brochures, we will help you to devise a successful web strategy to create and add value to your business!
With a pool of reputed clients till date, rest assured that we can do a great job in devising a successful and integrated web strategy that generates a positive return for your company!
Talk to us for all your online needs – web sites (new or site revamps), flash intros, logos, site promotion, search engine optimization and setting up web-based applications such as shopping carts, content management systems, forums, portals, classified ads, payment gateways and any other customized requirements.
Let our team of professional designers and programmers help you build a successful website to complement and enhance your core business. Or alternatively, for fast and guaranteed satisfaction, choose from our list of pre-designed website layouts that speaks volume for your business.
If you want to try your hands on your designing skill using our SiteBuilder wizard, click the link below and start designing your new website, free of charge.